Kissimmee is the place where most people think of when they are going on their first holiday to Florida. Kissimmee is the centre of everything to do with Central Florida and nearly all the attractions are accessible from here in short time.
Whether you are visiting Magic Kingdom, Universal Studios, Seaworld or Kissimme Old Town if you are based here it's easy. There are numerous restaurants, shops galore including the The Loop shopping mall.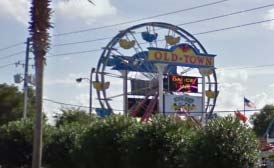 Kissimmee has an Amtrak train station and a Greyhound bus station which gives easy access to the rest of the state. While a local bus service "Lynx" can help you around more locally. Orlando International Airport is as little as 15 minutes away by car.
There are many distinct areas of Kissimmee where you might stay from the furthest east of US192 near St Cloud to the furthest west of US192 near Clermont and Davenport. Wherever you are a simple trip on US192 will get you where you need to be.
Kissimmee offers a choice of the hustle and bustle or the more sedate pace and is a great place to stay as well as safe.