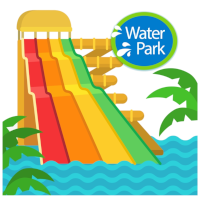 A day spent in a water park is a must for any family.
It can be great fun seeing Nanna or Mummy get soaked, especially if you're the one doing it.
Water Parks:
---
Keep topping up the suntan lotion, getting burnt is a real possibility. Watch your kids like a hawk, the enjoyment makes them do stupid things.
Make sure to stay hydrated, you are directly in the sun for a large portion of the day.
---
Disney's Water Parks are as follows:
---
---
---
Universal's Orlando Water Parks are as follows:
---
---
SeaWorld Water Parks are as follows:
---
---
Legoland Water Parks are as follows:
---
---
Busch Water Parks are as follows:
---
---
Other Water Parks are as follows:
---
---