Fort DeSoto is our own little bit of indulgence, close your eyes, now picture in your mind what you think paradise is........
Its Fort Desoto.
This area is not as crowded as
St Pete's
and
Cleawater
and that makes it a must visit.
After Madeira Beach it is my all-time favourite place in the world, so much so that we have buried the ashes of 2 of my cats that have passed away as well as a photo of me and my Dad who passed away in 2006, if you look at the map below right at the furthest tip of that island is where they are.
I am not going to tell you what it's like, just go and see for yourselves.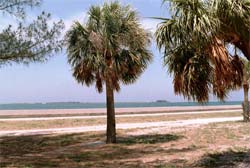 The beach is amazing and not crowded except for the holidays "Memorial Day" etc. There is plenty of parking spaces and if you want a barbeque there are huts all along Fort Desoto for you to use, just watch out for the Racoons, greedy little beggars.