St Pete's is pure white sandy beaches, and turquoise blue waters that blend into a cloudless sky. St Pete's Beach is a favourite with British tourists and as such can get very busy which can sometimes be a little off putting.
Pass-A-Grille, which is located at the southernmost tip of St. Pete's Beach, is a sleepy little community with the flavor of the tropics, known for its quaint houses, well-kept lawns and incredible views of the little islands that sit at the entrance to Tampa Bay. The largest attractions are a handful of restaurants specializing in seafood and tropical drinks and a small fishing pier where anglers can charter deep sea fishing boats.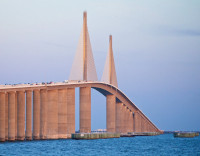 A ferry provides visitors with regular service to a local barrier island where shelling and picnicking are favourite pastimes.
Just north of Pass-A-Grille is the Don CeSar Beach Resort, one of the most visual landmarks of the region. Located at the entrance to St. Pete Beach, this historic pink castle was a longtime point of reference on maritime navigation charts. Built in 1928, it is now listed in the National Register of Historic Places.
St Pete's Pier is a must see, here you can look out over Tampa Bay, eat, drink and be merry. Watching a sunset here is something to admire as well.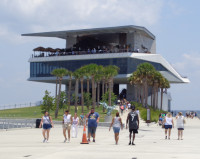 Gulf Boulevard stretches for miles to the north where you can discover splendid restaurants offering anything from French cuisine and Mexican fare to spicy Thai food and sushi. Get a boost of energy from rich Columbian coffee and enjoy the many beach stores that line the boulevard. You will also find artsy little shops nestled among the towering hotels and resorts, and there are plenty of tiki bars where you can sip on margaritas and watch the sunset. For breathtaking vistas and a plethora of activities, St. Pete Beach is the place to go.