The Virgin Promise
Virgin is one of the very few holiday companies that maintain its own dedicated full time staff in Florida. In Orlando instead of "Running Down" our hotel visits, we are substantially increasing them and we have service centres at the Diplomat, Quality Inn International AND at the Walt Disney World Dolphin.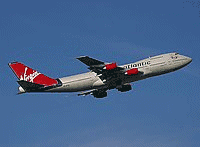 Virgin aim to provide simply the best service for you and to solve any problems you may encounter speedily and with the minimum of fuss. We are available everywhere 7 days a week and operate a 24 hour Emergency Service. We promise to make your holiday a special and memorable one and have the resources and caring, friendly staff to really look after you. Virgin have permanently staffed offices in Orlando, Miami and St. Petes.
Virgin have its own office in New York and Boston and in the Caribbean they have carefully selected local companies to represent them.
Before you go on Holiday you will get Virgin's "Welcome Aboard" Book which tells you everything you will need to know about your Holiday and it lists ALL its telephone numbers and addresses. Please read it carefully and DON'T leave it behind.
Virgin purchased Travel City Direct in December 2008