Travel City Direct is a brand now owned by Virgin Holidays. Previously it was part of the third largest tour operator in the United Kingdom, the XL Leisure Group and was the UK's largest direct sell tour operator to Florida.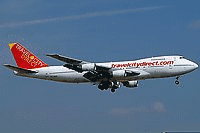 Travel City Direct chartered flights from American Trans Air which stopped in Gander Newfoundland to refuel onroute. In 2002 Travel City Direct changed airline operators to European Aviation using Ex British Airways Boeing 747 Aircraft. In 2003 Travel City Direct also started using Air Atlanta Europe Boeing 747 aircraft in addition to European Aviation to meet the demand for their holidays, this resulted in over 20 flights per week to Orlando Sanford in the Summer 2003.
On 12 September 2008 the XL Leisure Group which owned Travel City Direct shut down operations, however, on 18 December 2008 Virgin Holidays announced it had acquired the trading name of Travel City Direct and then resurrected operations again under the Travel City Direct brand on 5 January 2009. Travel City Direct uses seats on Virgin Atlantic scheduled flights into the larger Orlando International Airport.
Virgin purchased Travel City Direct in December 2008