New York City, so big they named it twice...... and so damn expensive its wrecked many a holiday. You need to do New York at least once in your life though and if you are lucky enough to have it in a multi-centre Florida Holiday then here are a few tips to make sure you Don't get to Florida Broke.
Try have at least 3 days in Manhattan and use the time to explore. On your first day try figure out what you want to see and decide how you are going to get there. One way is by bus but it is slow and time consuming, another would be to use the subway but many are afraid of this, another would be to get a cab "Taxi" to each place but that too would be expensive. If you are fit then walking really is an option especially when combined with the subway or with one of the tour bus companies that will attract your attention in Times Square and elsewhere.
Some great FREE or inexpensive things to do in New York are: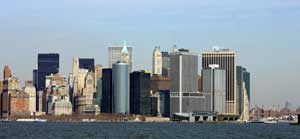 Staten Island Ferry: - The seven-mile stretch across Hudson Bay offers some wonderful sights like the one above which was taken on the way back to Manhattan from Staten Island. Other sights include the Statue of Liberty, Brooklyn Bridge and Ellis Island and what is best of all its FREE.
Brooklyn Bridge: - Get the subway or water taxi across to Brooklyn and then get on the Brooklyn Bridge and walk across it towards Manhattan. To the right you will see the Empire State Building, Chrysler Building and the Manhattan Bridge while to the left is Wall Street, Governers Island and the South Street Sea Port.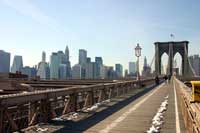 Ground Zero: - If you do not shed a tear here then you are not human, nearly 3000 people died on this spot and the harrowing thought alone makes you want to cry. Make sure and call in on Ladder Co. 10 and Engine Co. 10 to see the mural.
Times Square: - At night this place is an amazing cascade of light and sound. This is advertised as the crossroads of the world and trust me; I think the world is there on a night time.
Central Park: - A walk around Central Park is a must. It's amazing that from the noise of New York City once you walk a few metres inside the park it becomes very quiet and sedate just like been in the middle of the country side.
Some great PAID things to do in New York are:
Top of the Rock: - This is at the world famous Rockefeller Plaza "Ice Rink - Gold Statue" and is a must do. In my mind this is so much better than the Empire State Building because it is in your eyes view from the Top of the Rock. It is also a lot less busy than the Empire State Building.
Empire State Building: - Can get really busy and they tend to rush you to look and get rid of you. Top of the Rock is much more relaxed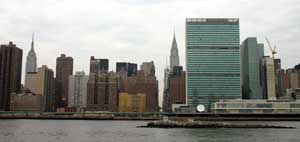 Circle Line Cruise: - Either a daytime or nighttime cruise around Manhattan gives you the chance to see so much of the island. A commentator will help you identify the enormous number of famous things to see.