Most people think that Walt Disney World Resort is in Orlando when in fact it is actually in Lake Buena Vista. Lake Buena Vista is positioned for easy access from Orlando or Kissimmee so wherever you are located it is simple to get into the parks. This area is actually owned and operated by the Disney corporation which is kind of unique.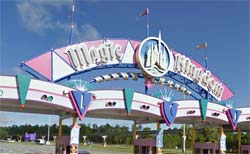 Lake Buena Vista is home to all the Disney theme parks and activities including:
Theme Parks:
Disney's Animal Kingdom - Where you come face to face with wild animals.
Disney's Epcot Center - Where science is the flavour of the day.
Disney's Hollywood Studios - Where you can be a movie star or pop star for the day.
Disney's Magic Kingdom - Where the famous Cinderella Castle is located.
Water Parks: