I had never heard of Davenport until the first year we had a villa there. When we received confirmation that our villa was going to be at the Royal Palms in Davenport, I thought they had put us miles away from everything.
Located on SR27 its only about a 10-minute drive to all the Disney attractions and the western end of US192. At first glance it seemed that there was nothing here but citrus fields.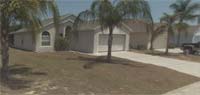 But when we got there, we found a Denny's and a Seven Eleven. Building work seems to be creating a new area like Kissimmee and to be quite honest I can see this place becoming a central access point to all the attractions.
Basically, all you have to do is get on Interstate 4 (I4) and head for Tampa, then turn right on to SR27 and you are there.
A short journey north on SR27 you will find shopping facilities and Kissimmee and Lake Buena Vista are only a short hop away too.
It is also great for access to Interstate 4 (I4) to get down to Tampa and the Gulf Coast beaches.