Cocoa Beach
is the perfect destination for those seeking the best of sea and space. Here, you can see everything from an eagle soaring across a brilliant blue sky to the silver bullet of a space shuttle "soon no longer to be" streaking into orbit.
NASA's Kennedy Space Center, is situated in the middle of the Merritt Island Wildlife Refuge. The Kennedy Space Center Visitor Complex features interactive exhibits, guided bus tours, an art gallery, a rocket garden and a gift shop.
The five-story IMAX theater features films with footage shot by NASA astronauts on location in space. The more personal story of space exploration is highlighted at the U.S. Astronaut Hall of Fame and U.S. Space Camp, where visitors can view memorabilia from the original Mercury Seven and Gemini astronauts. Step on board a full-sized replica of the shuttle orbiter and get a behind-the-scenes look at the operations of NASA's Launch Status Center.
---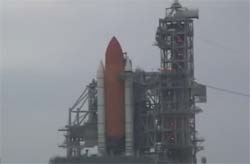 ---
At Port Canaveral, fish for the ocean's finest seafood from the jetty or take a trip on an exclusive cruise liner. Two of Disney Cruise Lines' new cruise ships call Port Canaveral home. Each glistening white mega-ship embarks on three- and four-day adventures with vacation packages that can include the world-famous Disney World theme parks.
A bustling array of sumptuous seafood restaurants, casual taverns and even a floating tiki bar, have made this area a new dining and nightlife hotspot. Port Canaveral also offers three parks including one featuring oceanfront camping for RVs and tents.
Whether you're seeking a high-tech or a laid-back vacation experience, the Cocoa Beach area can accommodate you.