Air 2000 was launched on 11 April 1987 with the remit to build a new kind of charter airline combining exceptional value for money with unprecedented levels of service, reliability and performance.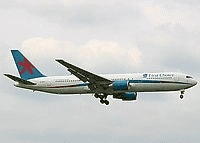 "They did not carry businessmen to business meetings - they flew adventurers and sun seekers to exciting destinations around the world".
In its thirteen year history, Air 2000 had established itself as a leading charter airline by listening to its customers and introducing innovative practices ahead of its competitors.
Winning the coveted Golden Globe Award for "Best UK Charter Airline" six times since its inception in 1990, proves that its efforts were recognised and appreciated by its customers.
Created as "Tomorrow's Airline Today", the name Air 2000 was chosen for the airline subsidiary of the then Owners Abroad Group.