Thomson Airways Flies to Florida:

---
Established: 1st December 1961

Started Operations: 5th May 1962

Current Fleet: 60 Aircraft

Average Fleet Age: 11.2 Years

Whats Onboard: See Here

Main Website: Click Here
---
Thomson Airways is the world's largest charter airline, offering scheduled and charter flights from the UK to destinations across Europe, Africa, Asia and North America.

Thomson Airways has its roots from four sources:
Euravia
Orion Airways
Air 2000
First Choice Airways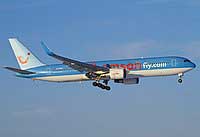 Thomson Airways was awarded the title "Most Punctual UK Charter Airline" for 2008, 2009 and 2010. In May 2010 the airline achieved the Best Leisure / Charter Airline award during 2010 World Airline Awards.