LEGOLAND Florida Theme Park:
LEGOLAND Florida

Address: 6000 Cypress Gardens Boulevard.
Winter Haven
FL 33884

Phone: 1 (877) 350-5346

Website: Click Here
LEGOLAND Florida is specifically aimed at children aged 2 to 12. With over 50 family rides, "hands-on" attractions and shows, LEGOLAND Florida provides education, adventure and fun in this second park of its kind in the United States.

LEGOLAND Florida is open 5 days per week, closing Tuesdays and Wednesdays, but is open daily during specific holiday periods.
Park Tips:

Plan ahead what direction around the park you will take.
Get there early, you will be there ALL DAY.
Drink Plenty of Water.
Take your own food, LEGOLAND can be expensive.

Park Entrance Base Fees:

Adult - $ 75.00
Child - $ 65.00

(Price subject to change) Parking Fees:

$6.00 - Motorcycle
$12.00 - Car or Motorcycle
$15.00 - Camper, trailer or RV
$20.00 - Preffered Parking
---
Rides
---
Island in the Sky
Island in the Sky is a 150 foot rotating platform that gives you full a 360° view of LEGOLAND Florida.

The Grand Carousel
A double decker carousel that is the centerpiece of Fun Town. Children can choose their favorite horse.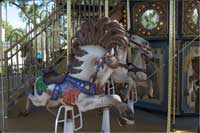 Granny's Jalopies
The bumpy ride and beeping horn are sure to induce laughter from riders of all ages.

Big Rig Rally
Get into your semi truck and drive through the desert to deliver your cargo. Dont forget to Buckle Up.

Royal Joust
Kids ride a LEGO themed horse through a number of medieval scenes where they will encounter other riders in a joust.

The Dragon
An indoor - outdoor steel roller coaster that features a hilarious, behind the scenes view of life within the enchanted LEGOLAND Castle.

Merlin's Challenge
Climb aboard this mysterious wooden train ride powered by the Merlin's magic.

Coastersaurus
A wooden coaster that curves and dips in and around a prehistoric jungle of animated and life sized LEGO brick dinosaurs.

Safari Trek
Explore the wilds of Africa with gorgeous, life like LEGO animals.

Beetle Bounce
Get launched 15 feet up toward intricate, brightly jewelled LEGO scarab beetles perched on top of two monumental obelisks.

Lost Kingdom Adventure
This dark ride invites you to fire laser blasters at targets and brave the rugged Egyptian landscape in all terrain roadsters, while attempting to unearth the vast treasures of a forgotten empire.

Ford Jr. Driving School
A pint size version driving school course for children ages 3 through 5.

Ford Driving School
A "real life" driving experience for children ages 6 through 13, where kids receive their official LEGOLAND driver's license.

Flying School
Experience the thrill of flight on this suspended steel coaster.

Boating School
All aboard for this fun filled ride that allows you to captain your own mini vessels.

Kid Power Towers
Kids and parents alike hoist themselves up to the top of a tower to get a great view of the entire park and lovely Lake Eloise, and then enjoy a fun "free fall" to the bottom.

AQUAZONE Wave Racers
Dodge water blasters on this dual water carousel ride as you zip in and out of waves.

LEGO© TECHNIC TM Coaster
Brave guests feel the power of acceleration, braking and maneuverability as they race a life size LEGO© TECHNIC TM vehicle along a wild roller coaster track.

Technicycle
A zany pedal powered spinning machine that shoot riders into the air.


---
Other Attractions
---
Factory Tour
A first hand look at how LEGO bricks are made from factory to finish.

Daytona International Speedway
Part of the expanded Florida area, with an interactive Daytona International Speedway® racing experience where guests can race LEGO brick cars.

Florida
Florida encompasses the entire state from Mallory Square in Key West to Bok Tower in Central Florida and antebellum mansions in the Panhandle.

Kennedy Space Center
This section gives guests a close up look at the Kennedy Space Center, complete with Shuttle launch, astronaut training and Rocket Garden.

Pirate's Shores
This pirate themed section hosts a full on swashbuckling pirate adventure as two opposing pirate ships and their "mates" battle it out upon the high seas.

California
California features landmarks from Southern California to San Francisco, with Pier 39, the Golden Gate Bridge, Greumann's Chinese Theater and more.

New York
New York City features tiny jets of water shooting up from the fountain in Rockefeller Plaza, while an army of animated yellow taxicabs prowls the streets of Times Square. The Statue of Liberty, a cutaway view of Grand Central Station, The Empire State Building, the Guggenheim Museum and the Bronx Zoo are just a few of the iconic landmarks.

Washington D.C.
Washington, D.C. sports faithful recreations of the White House (including the first family and "first dog"), the U.S. Capitol building, Smithsonian, Washington and Jefferson monuments and parts of Georgetown. An animated marching band parades in front of the Capitol and tiny cherry trees blossom every spring.

Las Vegas
Las Vegas features the world famous Strip including the Luxor Las Vegas, New York, New York Hotel and Casino, Excalibur, Mirage, Treasure Island, Tropicana, MGM Grand, Venetian, Stratosphere tower and two iconic structures of Paris Las Vegas: the balloon sign and Eiffel Tower. "The Strip" at LEGOLAND also features a miniature wedding chapel, monorails and real life sounds recorded in Las Vegas.

DUPLO® Farm
A special play area for children to slide, climb and crawl around a whole host of friendly farm animals.

Junior Fire Academy
Tots become voluntary firemen and work together to extinguish "flames".

The Forestmen's Hideout
A multi level tree and rope climb adventure for children to enjoy.

Pharaoh's Revenge
This outdoor attraction lets children and parents fire soft foam balls at enemies and explore the maze of the Pharaoh's kingdom.

Rescue Academy
Where families compete with each other in fire and police vehicles to be the first to put out a simulated "blaze" and save the day.

LEGO® MINDSTORMS®
Build and program cutting-edge, computerized LEGO MINDSTORMS TM robots. (Area may be unavailable during school group sessions)

Build & Test
Build a LEGO car and test it against the competition on the digitally timed track. (Area may be unavailable during school group sessions)

LEGO® Hero Factory
Immersive interactive play area based on LEGO's popular Hero Factory line. (Area may be unavailable during school group sessions)

Kid Power Towers
Kids and parents alike hoist themselves up to the top of a tower to get a great view of the entire park and lovely Lake Eloise, and then enjoy a fun "free-fall" to the bottom.

Cypress Gardens
LEGOLAND Florida has taken great care to preserve the soul of the park – the historic gardens established on the grounds of its Cypress Gardens predecessor more than 75 years ago.


---